In this post, we will share a complete Alidropship Custom Store Review.

AliDropship claims to help you build a profitable eCommerce dropshipping store. They even offer to build a custom store for you if you don't know how or have the time to build one yourself.
However, is AliDropship legit? Can you really make money with AliDropship, and is it worth investing in one of their custom stores?
In today's article, I will review AliDropship and explain what it has to offer. You will find out whether it is worth using AliDropship, and whether you can really be profitable.
Dropshipping business has proven to be a good and passive way to earn extra income online. But starting one isn't going to guarantee your success in the dropshipping business.
As a matter of fact, I've seen dropshipping stores close up just because they can't keep up and the cost of running the business is recurring. Thus, making it difficult to sustain.
In other to be successful in any dropshipping business you have to take into account the product niche you choose to dropship, availability of the product offline, ready suppliers, promotional tools, and most especially the platform you choose to sell with.
As a result of this more and more merchants are finding an alternative to their platform and also finding access to better-automated tools.
In short finding, all means possible to beat down the cost of starting or sustaining their dropshipping business.
In this Alidropship Custom store review, I will answer most of the questions merchants have been asking about the Alidropship custom store. Whether it's worth a trial or not.
What Is AliDropship?

What is the Alidropship custom dropshipping store?
Is the Custom store worth the Price?
How do I get the custom store?
Payment gateways for Alidropship custom stores
Are there any future charges?
Alidropship Pros and Cons
Conclusion – is the Alidropship custom store worth it?
What Is AliDropship?
AliDropship is a WordPress plugin for setting up a dropshipping store. As its name suggests, you will be using AliExpress as your product supplier and dropshipping AliExpress products to your customers.
Using AliDropship, you can import products directly from AliExpress.
You will get access to a special list of profitable AliExpress products, and you will be able to fulfill orders automatically through the app.
AliDropship also has website services for entrepreneurs who don't have the time to build a website themselves.
With their custom store service, you will get a ready-made custom dropshipping store.
Is AliDropship Legit? 
Yes, AliDropship is legit. It has been around for a while, and it has helped many people set up dropshipping stores.
In addition to the plugin, there are many other services that are legit. For example, you can get help with setting up your social media accounts.
There is also hosting available for people who create drop shipping websites. Hosting is rather cheap and affordable.
Is AliDropship Profitable?
Yes, AliDropship can be very profitable.
It's more of a question of how profitable dropshipping is in general because what AliDropship does is make it easier and quicker to find and sell highly profitable products.
Dropshipping, when done right, can be very profitable, even if you are a complete beginner and do not have a lot of money to invest.
To be profitable with dropshipping, it is essential to find the right products to dropship. Here are some things to consider when searching for a product to dropship:
It has to allow you to add a profit margin of at least 20 percent.
It needs to be evergreen, so you can sell it throughout the year.
It can not be a fad, like fidget spinners.
It should not be something that is likely to be returned, like clothing.
It needs to be popular on AliExpress.
There are some other things to look for as well, but those are the main ones.
If you pick the right product and you set your store up correctly so you'll get enough traffic and conversions, dropshipping can be very profitable.
AliDropship increases the likelihood of you being profitable. It helps you find profitable products on AliExpress that you may not have found if you had searched yourself.
It also helps you save time, allowing you to spend more time focusing on your business strategy.
Finally, if you are a newbie, you may benefit from an AliDropship custom store set up by experts.
Another reason it is easier to be profitable when you use AliDropship is that you can earn a 12 percent cash back bonus on products you fulfill through AliExpress.
This 12 percent bonus can really help your bottom line.
For example, if you are selling a product that is worth $100, that means you will save an additional $12 you can add to your total profits, in addition to whatever markup you put on the base price of the product!
AliDropship – How Does It Work? 
AliDropship is rather simple, actually.
It connects your store to AliExpress, so you can import products directly from AliExpress, with just a few clicks.
Using this connection, also allows you to fulfill orders from your store on AliExpress. Gone are the days of manually copying and pasting your customer information into the AliExpress order form.
Not only does that take up a lot of time – the more orders you have, the more time it will take – but the tool helps you avoid copy and paste errors that sometimes occur, which can cause a product to be sent to the wrong address.

In addition, if you need help getting started and don't have the time or knowledge to create your own website, AliDropship will do it for you.
The AliDropship custom store service works like this: You buy a package and send in a request for a custom store.
Your AliDropship manager will contact you to get an idea of what your needs are and what kind of store you want.
You tell the AliDropship team what kind of store you want, how you would like your store to look, what type of products you want to sell, and so on.
If you are unsure of whether this service is right for you, you can schedule a free consultation call before you make your purchase.
Once you have purchased your package and told the AliDropship team what you want in your store, they will work on creating that store for you.
You don't have to do anything; they will do all the work for you.
One-click import, process automation, unlimited product choice, free updates, number of tools, one-time payment, and more. Grow your AliExpress dropshipping business today!
Buy Plugin Today (Special Pricing)
Depending on the package you bought, you can have your store all set up within as little as 12 days. If you bought a more expensive package, it will take longer than that, as there are more things to set up.
The AliDropship team will even set up social media pages for your site, though that will depend on the package you bought.
The basic package only includes a Facebook page, while other packages include Twitter, Instagram, and YouTube profiles/channels.
AliDropship will take care of on-page SEO and get your site indexed on Google.
Your site will be able to handle an unlimited number of orders per month.
Depending on which plan you buy, you will get 50-200 products ready to sell, listed on your site.
You can always add more later yourself, but that's a good start.
How do the other services work? That's pretty simple too – they work like the custom store setup.
For example, if you choose to buy a social media setup assistance package, the AliDropship team will help you set up your social media profiles after discussing your needs and wishes with you.
Hosting is easy to use as well. Hosting is optimized for AliDropship sites, and, depending on your plan, you can get perks like up to 80 email addresses.
All plans come with a free SSL certificate and a free website set up on the hosting package is included.
AliDropship Plugin Review
I'm going to briefly review the actual AliDropship plugin and help you understand what it does and why you might want it.
The AliDropship plugin comes in two versions: The regular version and the WooCommerce version. If you have a WooCommerce store, make sure to get the WooCommerce version, but otherwise, these two versions are mostly the same.
The plugin comes with free themes you can use for your site. These themes are optimized for eCommerce conversions.
The AliDropship plugin works in tandem with the AliDropship Chrome extension.
One of the best features of the plugin and extension is that you can import products directly from AliExpress.
Just go to AliExpress and browse products. When you find a product you like, you can import it to your store with just a few clicks.
This allows you to save a lot of time.
You won't have to waste time copying and pasting the titles and descriptions anymore, nor will you have to download the images and then upload them to your site.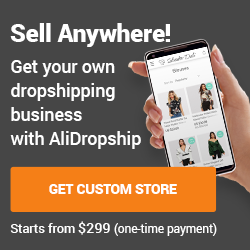 Finding profitable products is easy with the plugin.
Use the built-in search functions to find products that other dropshippers don't know about.
When importing products, you can use the built-in image editor to make your imported product images more appealing and unique.
You can also add product variations and edit the product title, description, tags, etc.
You won't even have to manually change the price.
One-click import, process automation, unlimited product choice, free updates, number of tools, one-time payment, and more. Grow your AliExpress dropshipping business today!
You can set your own price markup rules to apply across your entire site so that when you import a product, a markup is automatically added.
For example, you can set your markup to 30 percent.
Then, when you import a product that costs $20, the price on your store will automatically be set to $26.
The tool will automatically sync the products on your store with the AliExpress listings you took them from.
Things like price, description, and availability can change, and it can be very hard to constantly monitor all the products on your site and update their data manually.
Fortunately, the plugin will do that for you.
Another thing that takes up a lot of time is fulfilling orders.
Most dropshippers manually copy their customer's information and address and fill out the order form on AliExpress manually, but that can take time, especially when you are fulfilling many orders every day.
The plugin lets you skip all that. Just click the Order button, and it will automatically fulfill orders – all you have to do is confirm the order on AliExpress.
Not only is fulfilling orders quick, but tracking is automatic as well.
You won't have to manually find the tracking code on AliExpress and email it to your customers; the plugin does that automatically for you.
Marketing
The AliDropship plugin has excellent marketing features built in. For example, you can import reviews from AliExpress.
It is crucial to have reviews of each product on your site. It adds social proof, shows customers that previous customers were happy, and demonstrates that the product is popular.
You can also run promotions to increase conversions and add an incentive for people to buy your products.
Promotions that only last for a short time create a sense of urgency and are perfect for boosting sales.
There are several types of promotions you can run. For example, you can offer free shipping.
Alternatively, you can give out coupon codes, so people can get 10 percent off. If you like, you can change that to a flat rate, like $2 off.
The plugin also builds an email list for you. It will collect the email addresses of people who made a purchase from your store and of those who filled out their email address information but never completed their purchase.
Cart abandonment, which is when people add products to their cart but do not complete the checkout process, is a real problem and can really eat into your profits.
The AliDropship plugin aims to resolve this issue by sending automated emails to those people to remind them to complete their purchases.
This works because often, people abandon their carts not because they don't want to buy your product but because they got busy or distracted.
At other times, their internet just wasn't working well enough to complete their purchase, or they did not have their credit card on hand.
Customers can complete their purchases using a variety of payment methods. Payment processors like Stripe, PayPal, and PayU are built into the plugin, letting you reach more people and get more conversions.
Analytics
AliDropship lets you connect with Google Analytics and allows you to view your sales, orders, traffic, and more from a single, intuitive dashboard.
You can also easily track your inventory to ensure you are only selling products that are still in stock.

What is the AliDropship Custom dropshipping store?
The AliDropship custom store also known as Turnkey dropshipping store – is a normal online store where you go to buy a product. But this time around it's ready-made. Specifically built for dropshipping and exclusively created for you.
It's a ready-made dropshipping store developed by high skills designers and programmers with other technical specialists – who are responsible for developing it from scratch.
The custom dropshipping store is a perfect solution for those wanting to make dropshipping business another source of income – but have limited time.
Also, it's perfect for those that have no prior knowledge about building a website but want to start a dropshipping business.
Having the store is the fastest way to start a dropshipping business with AliExpress. This is because your store will be directly linked with AliEpress with the help of the Alidropship Plugin.
The store gives you time to focus on other things or the most important which is marketing your product.
Based on AliDropship statistics we've seen a rise in the custom dropshipping stores in countries with most activities with dropshipping.

Is the Custom store worth the Price?
Of course, people are very sensitive when it comes to the payment of money.
Well, who wouldn't be?
At least you need to be sure if what you are buying is worth the price. Which is one of the reasons I've put together the AliDropship custom store review.
So let's break it down and see if it worth the price:
One-Time Payment
 It's very important to know that a one-time payment is only needed. You won't be charged any regular fee for your store, it's 100% yours.
Furthermore, no percentage of your sale will be required of you, it's all yours to keep. And finally, you won't be charged any fees for processing your payment through any specialized service.
Basic Plan ($299)
Advanced Plan ($399)
Ultimate Plan ($899)
However, the only inevitable additional cost you have to pay is for your hosting. What this means is that you have to pay some hosting provider to keep your website connect to the internet.
Now, compare to the popular Shopify. Their basic plan is $29 using that for a year is going to cost you $348. This is without the use of their plugin and subsequent years.
Automated Dropshipping Solution
 if you are into dropshipping then you will know the importance of automated tools. These are tools that will save you the stress of searching for products all day on Aliexpress.
And not just that, getting to edit the products manually and manage your order fulfillment. This very can be very stressful and the worst part is losing your time.
The Alidropship custom store gives you an all-in-one dashboard to monitor all your sales, stats, and activities.
The store makes dropshipping easier for you by automating the most challenging part of the dropshipping business. The part like:
Placing an order on AliExpress
Running different social media account for the promotion
Order tracking
Price editing
ePacket shipping filter
Product updates
Store Customization
The custom store comes with a carefully designed theme and the store is created with your specific requirements. The store themes are professionally designed themes by Alidropship specialists.
You should also know that the themes are tested for the ability to generate more sales and bring higher profits to your business.
You get to choose any theme that suits your taste or makes your store look nice. Also, as part of the package, they provide custom design elements, such as logo, header images, and favicon.
All-Inclusive WebStore
The custom store is an all-inclusive store. Basically what you get is a complete E-commerce solution.
It comes with a full-functioning website with already imported products ready to start selling almost immediately. Additionally, you also get a shopping cart that enables a seamless purchase procedure.
Interestingly, it also comes with a range of marketing tools integrated with the website.
It allows the owner access to various marketing and promotional options such as product reviews, discount coupons, emails for abandoned carts recovery, etc.
Other unique feature includes:
Up to 12% AliExpress cashback
100% ownership
Comes with optimized themes for dropshipping
Fully automated with AliExpress
Product niche research for your store
Comes with a free domain
Optimized website for mobile users
Promo video marketing
Branded social media pages
At least 50 already imported products with edited pictures and descriptions.
On-site SEO and social networks accounts
All-in-one dashboard – to monitor your sales, orders, stats, and activities
Integrated Google Analytics
Integrated payment gateways like 2Checkout, Stripe, PayU, PayPal, etc.
Niche Selection For your Dropshipping Business
If you are like me, then you will know how confusing niche research can be for your dropshipping business. People often say it better to sell a product you have a passion for.
But however, you should also know that while passion is a great factor for business success, there are still some important factors you can't but look into. Factors like:
Current trends
Niche's Potential for SEO
The Niche popularity
Niche supplier
promotional suitability
Seasonal constraints etc.
Niche selection can be a tricky part of dropshipping. This is because it's very important to choose a niche that is competitive, market-friendly, and exciting to you personally.
The Alidropship analysts help all buyers of the custom store to carefully choose a niche for their dropshipping business.
That's, of course, you don't have a niche already. They carefully do so by taking into consideration all the numerous factors in choosing a dropshipping niche that will prove to be successful for your business.
Marketing and Promotion
Finally, your store is prepared for promotion on social media – knowing that social media is a great source of the traffic to generate sales for any e-commerce business.
Accounts will be created for your store on most of the popular social media networks to promote your store. This will also be done to raise awareness and interact with potential customers.
The good part is, the social networks account will be run automatically through the Social Rabbit plugin installed on your store.
The AliDropship ultimate package Includes all the feature that's not included in the two other plan. It includes all the social media pages and a promo video to promote your product and equally the Social media promo tool.

However, there's a new package too, bigger than the ultimate plan… the SUPREME PACKAGE! I've written a detailed review on it. You can check it out here!
Alidropship Custom Store Review: Payment Gateways? 
The custom store supports most of the popular payment gateways, like PayPal, 2Checkout, Stripe, PayU, etc. Thus, allowing your customer to be able to use any of the convenient and secure payment methods.
In case your country payment gateway is not inclusive or you want to add additional systems, you can notify your project manager. But this might cost an additional fee.
Why Buy a Custom AliDropship Store?
There are many reasons why you may want to purchase a custom store by AliDropship, and we've outlined them all in this AliDropship custom store review, they are as follows:
Zero Experience Required
Everyone starts from zero, and this shouldn't stop you from getting into the game and learning.
Once you've purchased a custom store package, you'll have a dedicated manager who is highly experienced in the process of picking and setting up a dropshipping store.
This means that you don't need to experience yourself, but in fact, it's a great opportunity to learn from this dedicated manager, and get a masterclass in the exact process of starting and creating a successful dropshipping store.
Saves Time
Starting a new business can be time-consuming, especially if you're not familiar with what you're doing. However, knowing that you have AliDropship creating the online store means that you can rest assured that everything is set up correctly, and you can get your dropshipping business up and running quickly.
Additionally, it means that you can spend time setting up other areas of the dropshipping business, or you can simply relax.
Hands-off from Setup Tasks
As we touched on, your dedicated manager will go about the process of researching, analyzing, and then creating your dropshipping business.
You'll have the final call on any decisions, but for more inexperienced customers, this will be a hands-off process, unless you specify otherwise.
They'll go about taking care of niche selection, competitor analysis, theme setup, hosting & SSL (if purchased additionally), product selection and importing, setting up payment gateways, and more.
In-depth Market Research Niche Selection & Analysis
A large determining factor (at least for less experienced store owners) is the amount of competition within a particular niche… Too much and you'll struggle to stand out and compete, too little and that could be because it's not a good industry to enter.
This is where a keen eye for niche selection comes in handy, and being able to accurately analyze a niche and determine if it's worth pursuing
Since AliDropship's dedicated manager does this on a regular basis, they're obviously going to be good at this process.
This is one of the largest benefits of purchasing an AliDropship Custom Store Package. You're making sure that you have the best opportunity to make the eCommerce store a success from the offset.
100% Store Ownership
Once the custom store has been created, it's 100% in your ownership, no questions asked. You are now the legal owner of the store, and it's yours to promote, succeed with and even eventually sell if that's your exit strategy.
Ready for Orders Immediately
As soon as you receive your AliDropship dropshipping business, it's ready for orders, with no waiting around. This means that you can then focus on promoting your online store and getting traffic to the website.
Import Unlimited Products
Your custom-made AliDropship store has the ability to hold an unlimited amount of products. This means that you can create extensive collections and make sure that there's a product for every visitor to your store.
It's quick and simple to add products with the integrated AliDropship plugin, that comes with your store. You can simply download the AliDropship Chrome browser extension and link this to your WordPress plugin via an API key, then begin importing products from AliExpress with a few clicks of your mouse.
Unlimited Automated Order Fulfillment
One of the best things about AliDropship is the automatic order fulfillment functionality, which simply allows you to fulfill all of your orders at any one time, with a click of a button.
AliDropship links with your AliExpress account, for as long as you are currently logged in with your browser, and the plugin with then order each of the products, taking note of variations, and will automatically input the customer's shipping information.
All you need to do is click the 'Confirm and Pay' button at the end of the checkout process, and all of your orders are fulfilled
Quick Turnaround
Depending on the package you choose, there will be slightly different turnaround times, but all of which are incredibly fast when considering that you'll be receiving a fully functional e-commerce store.
Ali Dropship Basic Store: 12-15 Business Days
Ali Dropship Advanced Store: 15-20 Business Days
Ali Dropship Ultimate Store: 20-25 Business Days
Ali Dropship Supreme Store: No Specified Timeframe
Lifetime Support & Upgrades
With the online store, you'll get technical help, advice, and free software updates for life. This is truly invaluable, and coupled with the fact they have plenty of learning resources means that you're set up to succeed.
Free Resources on Promoting Your Store
AliDropship is constantly updating its website to include new niche advice, marketing tips, case studies, FAQ answers, and learning guides that help its customers.
After all, it's in their best interests for their customer to succeed, why? Because a more successful business' which uses AliDropship means that, the company will accrue more customer success stories and positive testimonials to share on their site, which means more subsequent sales for AliDropship.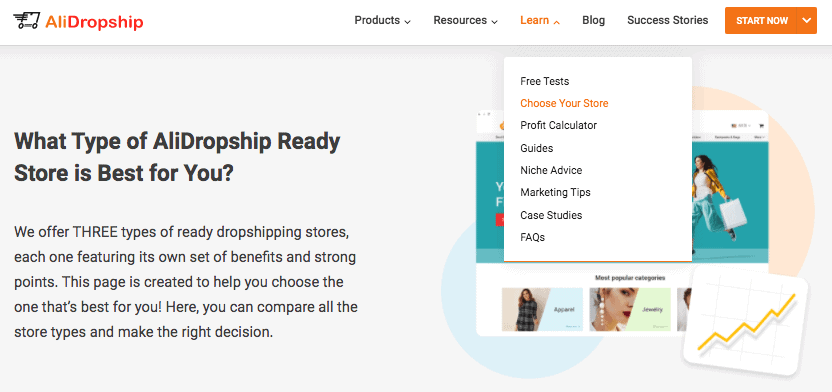 Is there any Future Charges
Ordering a custom store from Alidropship gives the buyer 100% ownership of the website. You don't have to pay any monthly fee or commission fee on your product profits buyers are in total control of the store.
The only future payment you have to pay will be for your hosting platform. This is to keep your website running and you don't have to keep your website hosted with Alidropship if you want.
AliDropship Custom Store Discount
Below we've included all of the available AliDropship custom store discounts that are available:
AliDropship Basic Custom Store Discount "TheMarketingVibe15": $254.15 (15% off) – Get a Discount here
AliDropship Advanced Custom Store Discount "TheMarketingVibe15": $424.15 (15% off) – Get a Discount here
AliDropship Ultimate Custom Store Discount "TheMarketingVibe15":: $764.15 (15% off) – Get Discount here
AliDropship Supreme Custom Store Discount "TheMarketingVibe15": $2464 (15% off) – Get a Discount here
AliDropship Custom Store Package Comparison
Niche Research
All packages include niche research, with your dedicated manager doing this task to find the best niches in terms of both business longevity, competitiveness and the amount of potential income to be made.
The niche research process can be quite a complicated process for more inexperienced entrepreneurs, as they don't consider things like seasonality, and may struggle to accurately assess the level of competition within an industry.
Domain
A .com domain is included with each package, which would usually cost about $10 if you were to register it yourself (don't worry, they transfer the ownership to you when your eCommerce store has been created).
Unique Design
Design is everything for a website, especially an e-commerce site. Therefore, it's important to make sure that the site not only looks great but provides a flawless and professional user experience.
Each of the packages includes a unique design, including a logo, header images, favicon, and banner images.
Mobile-Friendly/Responsive
After Google's mobile-first indexing update, it put pressure on website owners to make sure that their sites were mobile-friendly and responsive.
More and more shoppers are using mobiles to shop online, and therefore, it's crucial to give them a great customer buying experience, so they're more likely to trust your brand and purchase from the store.
Each of the packages includes mobile-friendly & responsive designed sites.
AliDropship Plugin
As expected, each of the packages includes the AliDropship plugin, which is the functionality behind the entire store.
Products
For each of the packages, you are unrestricted for the number of products that can be added to your store.
However, each package will come with a different amount of pre-imported products, that your dedicated manager has selected.
Basic Store: 50 Pre-imported products
Advanced Store: 100 Pre-imported products
Ultimate Store: 200 Pre-imported products
Supreme Store: 500 Pre-imported products
Order Tracking Capability
Each of the packages comes with the AliDropship plugin, which includes order tracking capability. This is important to help inspect orders and make sure that the logistics are being handled correctly.
Business Statistic Interface
Each of the packages comes with the AliDropship plugin, which includes Business Statistics, relating to the amount of website traffic, browsing behavior, conversions/sales, etc.
Payment Gateways
Each of the packages has payment gateways set up, accepting payment via popular payment processors like PayPal, Debit/Credit Cards, 2Checkout, Stripe, PayU.
Delivery Time
As we talked about above, each of the packages has a slightly different delivery time period, given that the advanced and ultimate custom stores have more features, they take longer to prepare.
Ali Dropship (Basic) Custom Store: 12-15 Business Days
Ali Dropship (Advanced) Custom Package: 15-20 Business Days
Ali Dropship (Ultimate) Custom Store: 20-25 Business Days
Ali Dropship (Supreme) Custom Store: No Specified Timeframe
100% Business Ownership
You can rest assured that each of the packages includes full legal ownership of your AliDropship business.
Integrated Marketing Tools
Each of the packages come with integrated marketing tools that are provided within the AliDropship plugin, these include:
SEO optimization tool
This allows for users to create templated metadata so that whenever a new product or collection page is added, it's already optimized to rank in Google.
Email Marketing
The plugin provides editable email templates that can be automatically emailed to your customer at every point during their buying journey, so they're kept informed about when the item has been shipped and when it will arrive… This will help to alleviate any worries about where their product is and help to build trust, which helps for repeat purchasing.
Coupon Creation & Management
The plugin also allows you to enable a coupon input box to be displayed upon checkout, and so it's a fantastic way to incentivize your visitors into purchasing with a few clicks on a button.
Basic On-Site SEO
As we briefly mentioned above, the AliDropship plugin has some basic SEO optimization elements that will allow you to optimize your home page, product pages, and category/collection pages so that they can rank well in the search engine results.
The Ultimate package does come with a homepage SEO-optimized article, which in our opinion won't get you more traffic immediately at least, but it will help solidify your brand more and give Google more of a reason to trust the website… After all, Google loves brands that keep their website updated and release new content (I.E create a blog/FAQ section)
Social Pages
AliDropship will create social pages for your brand and add design elements, such as your logo and a banner image.
Each of the packages varies in which social pages are setup:
Basic Package: Facebook
Advanced Package: Facebook, Twitter, Instagram
Ultimate Package: Facebook, Twitter, Instagram, YouTube
Supreme Package: Facebook, Twitter, Instagram, YouTube
Promo Video
A promotional video, introducing your store to new visitors on your website, alongside visitors to your YouTube channel is only provided with the Ultimate & Supreme package.
Social Media Promo Tool
The social media promotion tool 'Social Rabbit Plugin' is only provided with the Ultimate & Supreme package, although this tool can be purchased separately at the AliDropship Add-On store, which we've linked to here.
Supreme Package Add-Ons
Given that the supreme package is substantially more expensive, it comes with the following additional features:
General
Abandoned cart add-on: To remind customers that they added a product to their cart but did not buy it. This is done via email marketing and requires a mailing service configuration.
Urgency add-ons, including:

Shopping cart timer: to provide an urgency message on the cart page
Trust badges: to add trust and authority to the cart page
Social proof: special icons added to each product to let store visitors know how often people are buying at the store

Promotion banner add-on: Allows you to create attractive banners on the site, with no coding required
Reviews page add-on: This allows you to create an additional store page with real buyer reviews, imported from AliExpress
Promotion
Email subscription form integration: They set up a fully functional email subscription form using MailChimp, within the footer of your site, this allows for the collection of email addresses.
Lead generation pop-up setup: They set up a popup subscription form on the site, which will offer a discount coupon in exchange for the visitor's email address (the % discount will be discussed with you).
Promotional email setup: They create an automated sequence of 4 promotional emails, featuring products of your choice, which are included in the store. These promotional emails are tried-and-tested, taken from other highly successful dropshipping sites that AliDropship runs.
Done-for-you ads for Facebook and Instagram: 8 ad sets, including text, images, and targeting
Done-for-you social media posts: 30 engaging posts to use on all of your social media accounts, these are scheduled within 'Social Rabbit', which is the social scheduling plugin that is included.

Why do we use AliDropship?
Highly Reputable
When we first discovered AliDropship, it was around 3 years ago, and they were really making waves in the dropshipping industry, being the newcomer that was going to compete with the likes of Shopify… And they sure did it!
They've been featured on Forbes, NBC, INC, and many more online publications, with glowing reviews.
Fantastic Overall Customer Satisfaction Ratings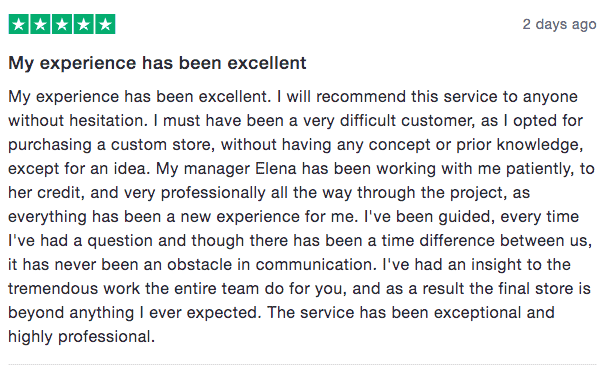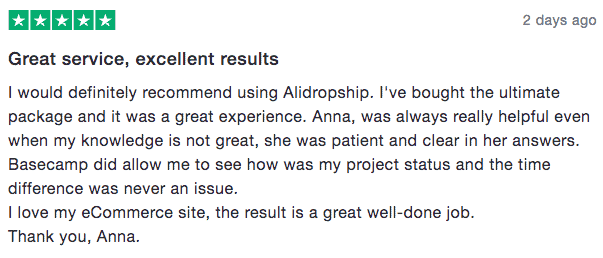 Lots of Success Stories On Alidropship Custom Store Review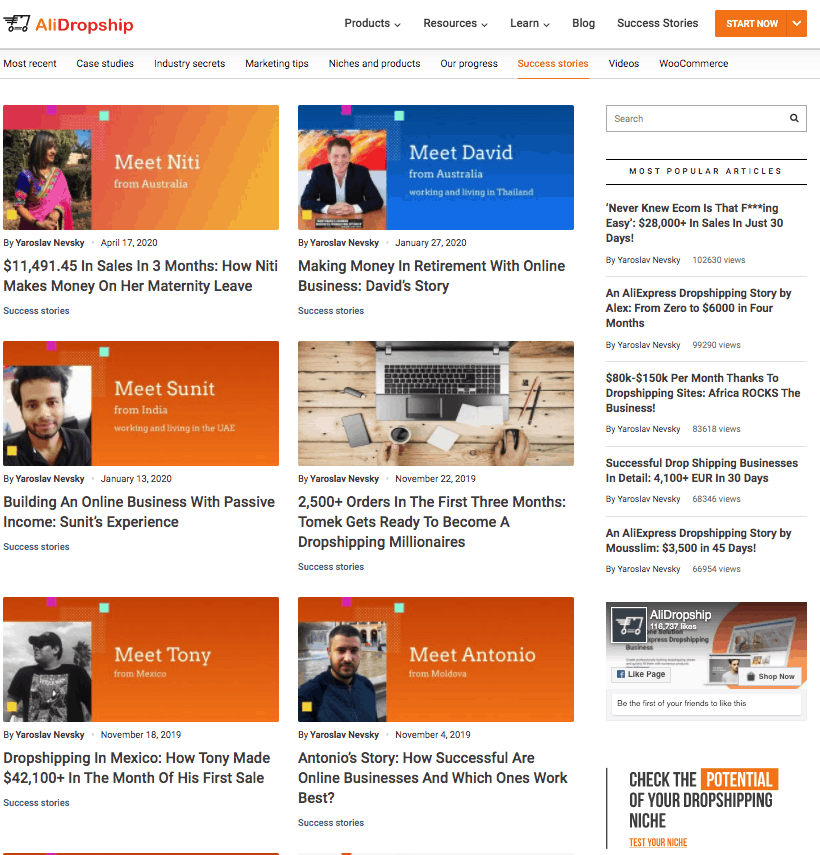 Plenty of Learning Resources to Help you Succeed
AliDropship has a full section of their site dedicated to helping customers succeed with their dropshipping journeys.
This includes information on getting more out of your store from a CRO perspective, SEO advice, PPC and Organic Traffic tips and guides: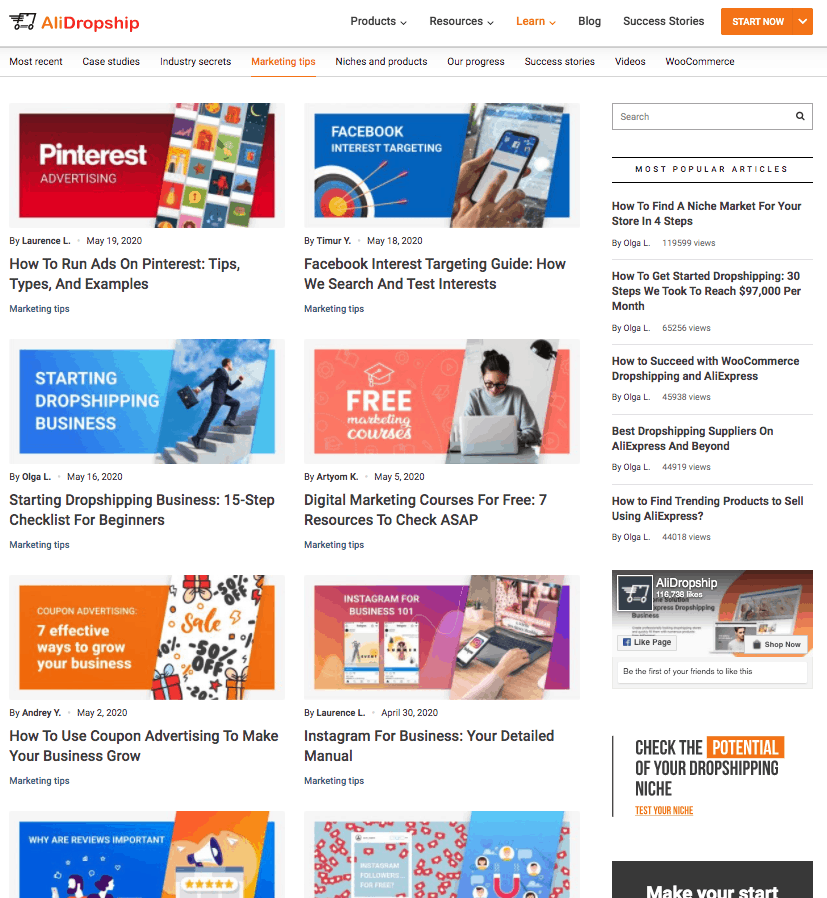 Lifetime Support
Not only do you have access to the AliDropship team via the general email address, but also, as a customer you'll get access to their forum, which is full of active members who are dropshipping store owners. This is a great place to ask questions and learn from more experienced drop shippers.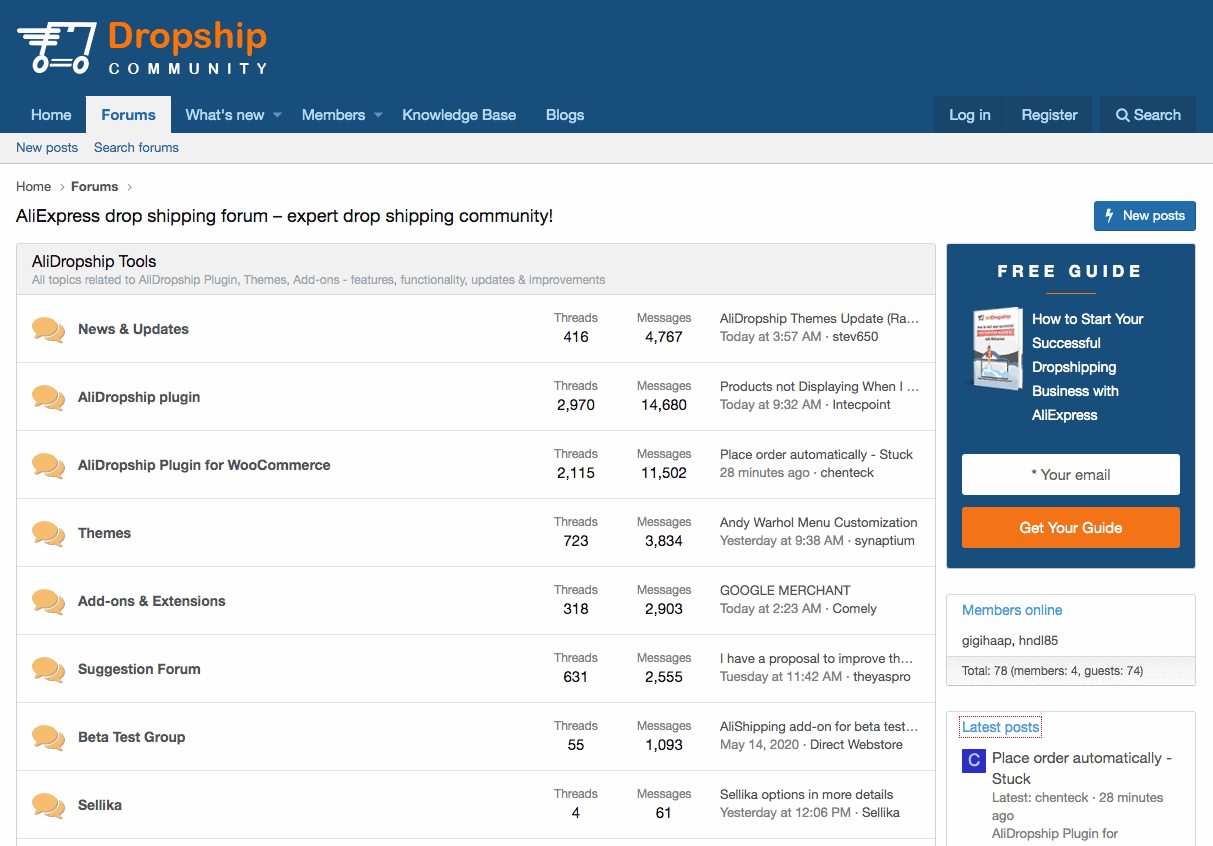 We hope that you've found this AliDropship Custom Store Review article useful!
Visit AliDropship to find out more information and order your online dropshipping store
AliDropship Custom Store Review Case Study
Below are some of the custom stores that have been created using AliDropship.
As you will see, these sites look extremely professional, and they look like trustworthy sites that you would most likely consider buying products from.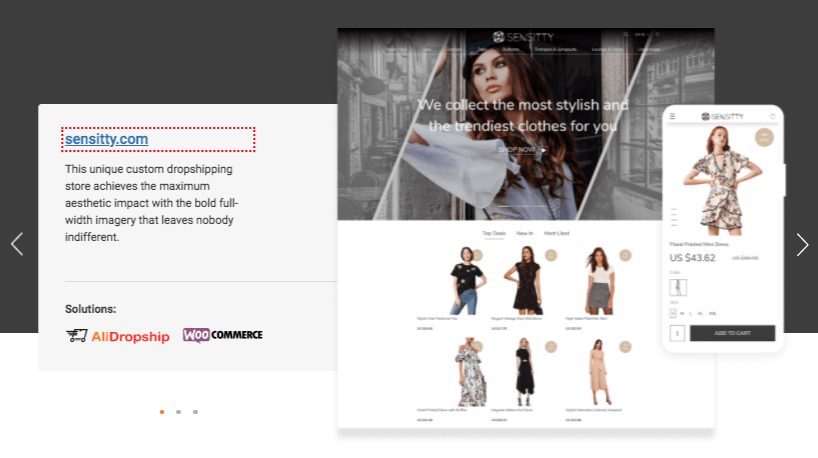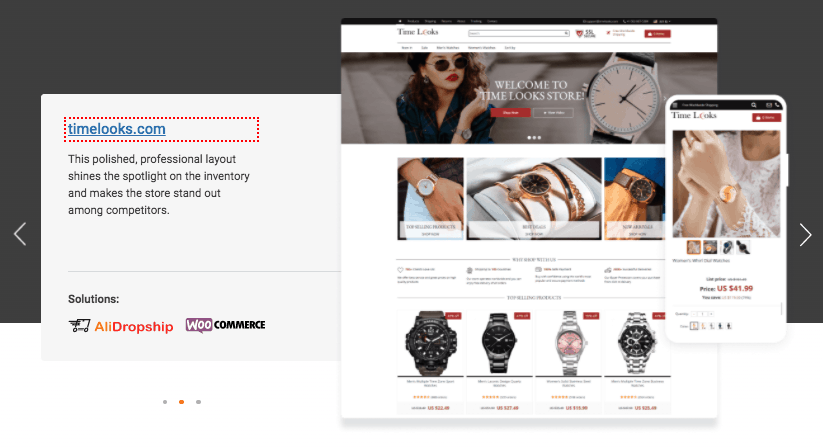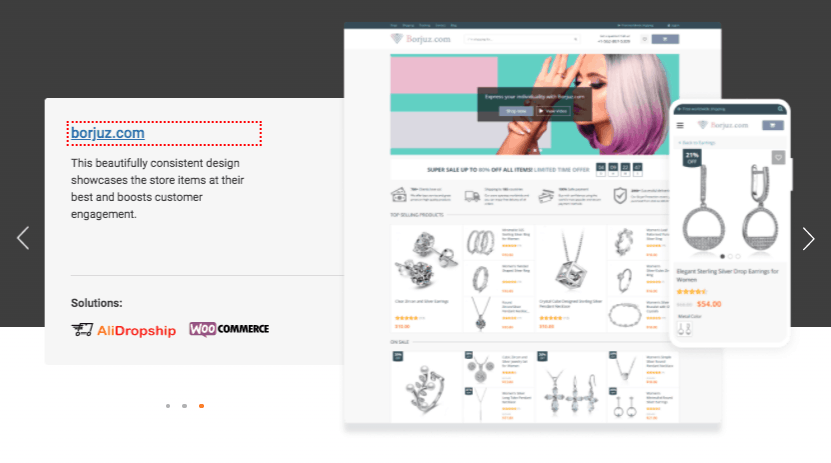 How do I get a Custom AliDropship Store?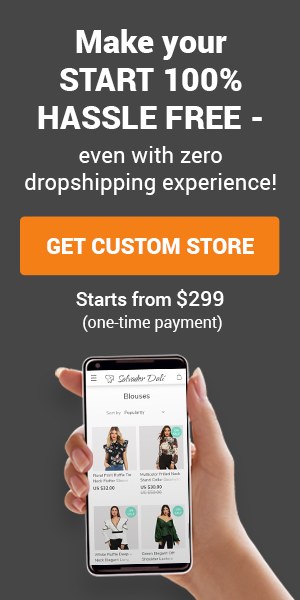 There are four steps to ordering your own custom store, which includes:
Select a package that is suitable and place an order via the AliDropship website Through Here.
Your personal manager will contact you to learn more about your expectations and help with informing you about which niche may be a good fit.
Once everything has been agreed and you are 100% happy to proceed, the AliDropship team will go about creating your store to your preferences.
When the store has been created, you'll have support and resources available to help make it a success.
Conclusion On Alidropship Custom Store Review
Basically, if you look at it, the price is still worth it based on everything you are going to get along with the store. Shopify is a great platform too, but their price has caused many dropshipping businesses to close down due to the recurring fee per month.
The one-time fee for ordering the Alidropship custom store will give you the freedom to plan your business into details without being bothered about your monthly recurring fee.
Finally, the custom store is of great help for those just stepping into the dropshipping world. So, what's your view on the AliDropship Custom store review?
Let me know what you think in the comment section.
Get a 15% Discount Coupon on your order… Use OLUSOLADAVID15 as your coupon!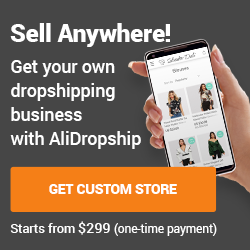 Click to rate this post!
[Total:

1

Average:

5

]